Isabelle Siegal (Certificate in Acting for Film) on working at The Imaginarium Studios
Based within Ealing Studios, MetFilm School London students are fully immersed in the screen industry from the moment they walk through the studio gates. Just one of our many creative neighbours here in West London is the world-class motion and performance capture facility The Imaginarium Studios, founded by Andy Serkis and Jonathan Cavendish.
In this blog, we catch up with recent Certificate in Acting for Film student, Isabelle Siegal, who now works at the Studios, to find out more about her role and this ever-growing side of the film, TV and gaming industry…
How did you get involved with The Imaginarium Studios?
I started off last summer as a freelancer for The Imaginarium Studios. They kept asking me back, and in November, I was offered a full-time contract, which I accepted! I couldn't be more grateful to the team, who I have the absolute pleasure of working alongside every day.
It's important to acknowledge that making and maintaining contacts in the industry is key to getting work opportunities in the first place, but I also can't emphasise enough just how vital it is to have a positive attitude! Curiosity is key, so show genuine interest in what you're doing, and don't be afraid to bite the bullet and go for it, even if you feel underqualified at first.
Have you always been interested in performance capture?
Like any people, I was introduced to Mo-Cap and P-Cap through cinema. I think nearly everyone has seen the video of Benedict Cumberbatch performing as Smaug, and of course, [Imaginarium co-founder] Andy Serkis is absolutely iconic as Gollum.
I'm also interested in video games, particularly narrative-driven and cinematic ones with interesting characters (like Detroit: Becoming Human and The Last of Us), so they were a big catalyst for wanting to work in this specific part of the industry.
What's an average day like at The Imaginarium Studios?
It really depends! Every day is different at the Studios. On shoot days, as well as operating Digital Continuity, I'm typically managing costume, so I'll get the talent all suited and markered up, and then I'll move downstairs to help get everything calibrated, and to set up my primary workstation.
We're also sometimes filming on location and away from our Ealing base – which is always exciting! On non-shoot days, we do a lot of testing, so I'm no stranger to being in a Mo-Cap suit or head-mounted camera myself!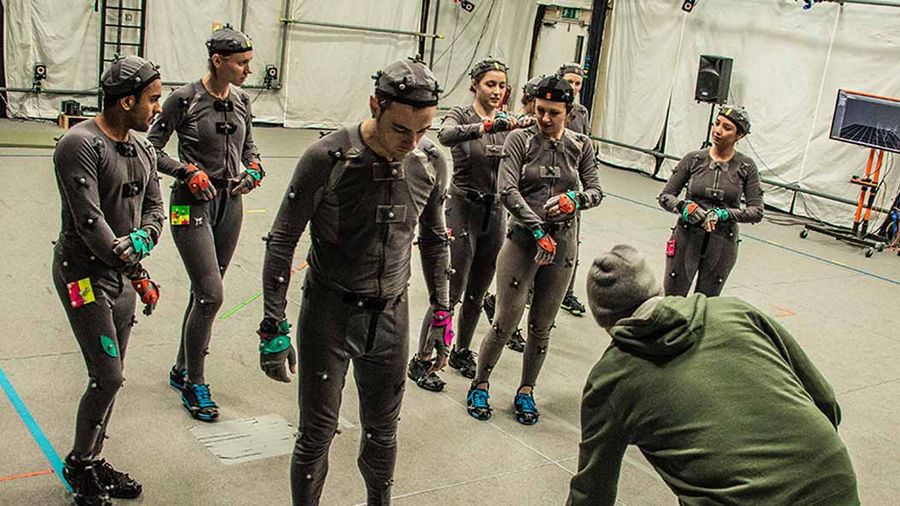 Has this internship changed your approach to acting at all?
Absolutely! It's challenged my prior reliance on costume, set, and props when on a 'typical' set. In the 'volume', it's just you and your scene partners in a big empty space, wearing what is essentially a pair of grey pyjamas, and maybe some very basic set pieces, so imagination and visualisation are absolutely necessary.
These are skills that I've carried over into my acting work elsewhere. More than anything, I've gained a larger sense of creative freedom and exploration with my own performances.
What about how you watch VFX-heavy films?
I've never really appreciated just how much hard work goes into large-scale VFX. Everyone working in this industry is criminally underappreciated! Of course, I've only seen one small building block of what goes into creating the on-screen magic, but my respect and admiration extends outwards. Plus, it's super cool to know that you were a part of making something so awesome.
How has this experience changed your time at MetFilm School?
I started at MetFilm School having just turned 18, fresh out of my A-Levels, so it wasn't just my first venture into the industry, but also my first step into the 'real' world. Through the acting course, and from my work at The Imaginarium Studios, I feel like I've grown up and developed an incredible amount over the past year and a bit.
Everyone's path into the industry is different – and that's the bittersweet reality of it. There's no set process to follow, no guaranteed secret method. MetFilm School provided a foundation for me to build on and expand outwards, and I would definitely not be working where I am today if I hadn't joined the course.
More than practical acting skills, it taught me just how essential it is to have the right attitude – something that rings true every single day. Now, having the perspective of both sides (being an actor, as well as a crew member on some major productions), the importance of both attitude and etiquette is constantly being reinforced – and that's the biggest piece of advice I can offer.
---