MetFilm School and Industry
Overview
Since MetFilm School began, we have enrolled over 15,000 students from over 110 countries, with many of them now working in the creative industries worldwide.
Our students have come from all regions of the world, and regularly collaborate after they graduate on personal and professional projects.
Our student credits at film festivals extend to almost every continent. Our reputation is truly international, with over half of our students being from outside of the UK.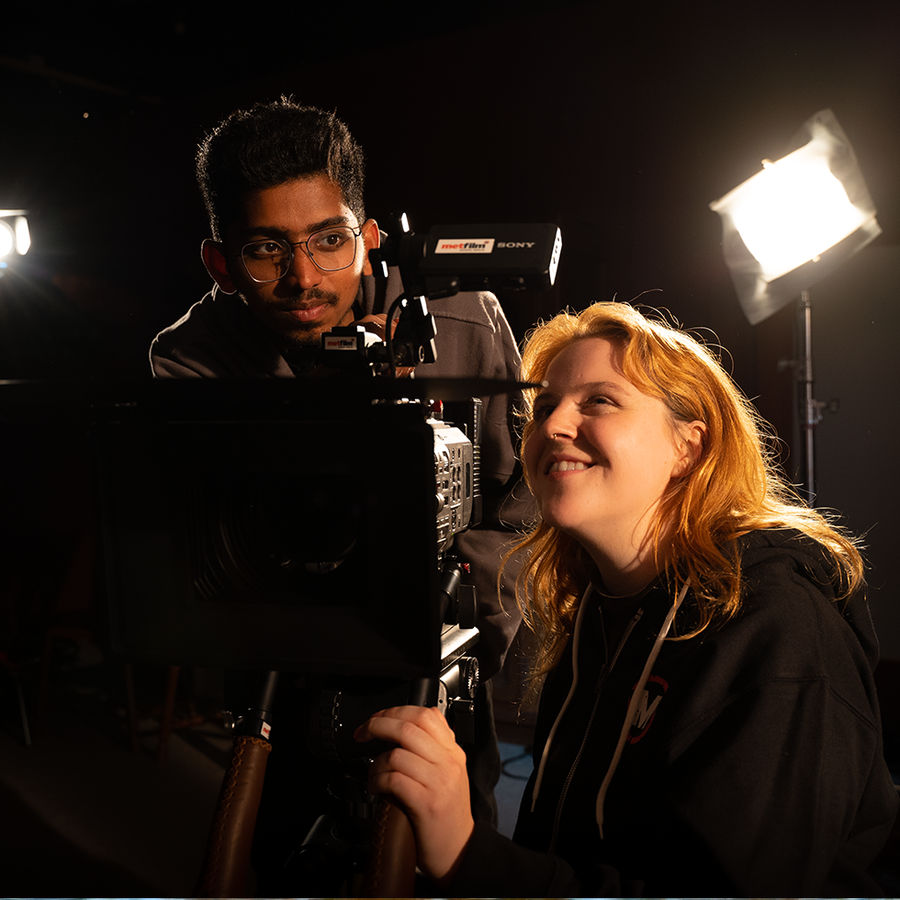 A Bridge to Industry
Since inception, the unique connectivity between MetFilm School and the screen industries it feeds, has been at the heart of our pedagogy.
It is key to our values. As learners, when we can see what learning gives us, we learn better. So we inspire students by showing you how your learning is informed by industry practice how graduates are succeeding in industry, and by bringing industry into the learning space: in course design; the professional practice we teach and expect of our students; the resources you work with – all these taught by tutors who come from industry; and guest speakers and partners – often representing brands we know and trust – who give further confidence to what you are taught and practice on a daily basis.
Our Board
The MetFilm School Board is the primary governing body of the School, and is collectively responsible for overseeing the institution's activities, determining its future direction and fostering an environment in which the institutional mission is achieved, and the potential of all students is maximised. Between its members it has vast experience in higher education and learning, in film and television production, and in leadership and investment in the screen industries.
The Board includes:
CEO, David Howell and Director, Jonny Persey; Co-founder Thomas Høegh; Chair, John Woodward; Independent Members, Sally Joynson and Alice Roberts; and Gavin Roberts.
Key Partnerships
Key Partnerships
University of West London
The University of West London validates our undergraduate and postgraduate courses in London, Berlin, and Leeds.
MetFilm School London students have access to the many learning and other facilities of the University of West London's Union (UWLSU) when they enrol. This includes access to the union bar, sports activities, student-run special interest societies, and a UK 'TOTUM' card for student discounts.
Note: right-click on the image to view it in a new tab.
ScreenSpace
In 2018, MetFilm School and the University of West London partnered together to create a series of degrees providing students with practical courses focusing on production skills alongside learning experiences immersed in the film and media business.
At the time of inception, the following degrees were referred to as part of this ScreenSpace partnership:
BA (Hons) Acting for Screen – Leeds
BA (Hons) Content, Media and Film Production – London, Leeds
BA (Hons) Film and Screen Business – London
MetFilm Production, Distribution, and Sales
Sitting alongside the School, MetFilm Production is an independent production company making high-quality fiction and documentary films for theatrical audiences worldwide. Recent releases include Sundance winners The Reason I Jump and How to Change the World; critically acclaimed documentaries such as Misha and the Wolves and Last Breath, and crowd pleasers such as Swimming with Men and The Infidel.
MetFilm Production's mission is to challenge, entertain, and inspire a global audience with fiction and non-fiction films which are both commercially and critically successful; to work with the world's most talented storytellers, both established and emerging; and to create opportunities for the next generation of filmmakers through its partnership with MetFilm School.
MetFilm Production works closely with MetFilm Sales, a boutique international sales agency which specialises in sales of high-end single documentaries and series, and MetFilm Distribution, a boutique all rights distributor releasing a curated slate of films across the UK and Ireland.
Our productions regularly create opportunities for graduates, and over 60 MetFilm School graduates have been credited in the last six MetFilm Production films. Our work regularly feeds into curriculum through pitch forums, mentoring, guidance, masterclasses, and case studies.
Our Studio Environments
We believe that you can only learn to make films by making films, and that you can only learn to make films professionally by making them in a professional environment. That principle is weaved into all aspects of our education, including our choice of locations, and it is why our main campuses in London, Berlin, and Leeds are all based in working film studios.
Our London campus is based within the famous Ealing Studios, home of classic Ealing Comedies including The Ladykillers and Passport to Pimlico, and recent productions such as Last Night in Soho, The Imitation Game, and hit series including Black Mirror and Downton Abbey. We also have additional facilities in the nearby Garden Studios, more of which below.
Our Berlin campus is based in BUFA Studios, one of the oldest film studios in Europe. The School's location in BUFA Studios enables students to have first-hand experiences of a working film studio on a day-to-day basis, and places them in the heart of the city.
MetFilm School Leeds is situated in Prime Studios, which plays host to professional film and television productions on an ongoing basis, and is next door to ITV Studios, the home of its flagship soap Emmerdale, one of whose current directors is MetFilm School tutor, Emma Lindley.
Garden Studios
Garden Studios is an innovative and sustainably focused film studio specifically designed to support the latest production technologies, and situated just a few miles from the Ealing Studios campus, our London students also engage in practical activities and productions at Garden Studios. Learn more about this studio space here.
The jewel in the Garden Studios crown is their virtual production stage. Virtual production is the future of filmmaking, the natural successor to the green screen, and the most radical technological development film has seen since the advent of digital.
British Film Institute
MetFilm School has now partnered with the British Film Institute (BFI). Monthly guest speakers are curated exclusively for conversations with MetFilm School students in all campuses.
The BFI's video on-demand streaming service, BFI Player, showing critically acclaimed classic, cult, and archive films at the touch of a button, is now available for free to all MetFilm School BA and MA students whilst in the UK.
MUBI
If you're one of our Berlin students, you get access instead to MUBI, where you can watch MUBI's selection of beautiful, interesting, incredible movies, handpicked for MUBI's 12 million members. New films are added every single day, and there is a massive catalogue to explore.
Adobe
The Adobe Creative Cloud, a collection of 20+ apps for video, photography, design, web, UX, and social media, are an essential building block in film production. We work with Adobe to provide the full suite to all of our students.
ScreenSkills Select
Many of our courses have been awarded the ScreenSkills quality credentials, which is awarded to courses that can prove they connect with industry, and teach professional skills which ensure graduates are work-ready.
These include our BA (Hons) Filmmaking courses, and the following MA degrees:
MA Cinematography
MA Directing
MA Producing
MA Post Production
MA Screenwriting
Spotlight
Our BA (Hons) Screen Acting course is a recognised Spotlight course, meaning that our students are now entitled to the Graduate Spotlight Membership. As the leading platform for professional casting for actors in the UK, membership to this organisation can only be granted to a graduate from an accredited school, or a working actor with a certain number of professional credits.
The Graduate Spotlight Membership immediately makes graduates more appealing to a higher calibre of acting agents, and includes support, content, and events specifically tailored towards their needs.
CILECT
We are proud to be among the distinguished schools worldwide that are fully members of the CILECT (Centre International de Liason des Ecoles des Cinéma et de Télévision), the international organisation of Film and TV schools around the world.
Soundsnap
Soundsnap is a professional online sound and stock music library, featuring high-quality sound effects, loops, and stock music from professional sound designers and cutting edge music professionals. We work with Soundsnap to provide access to their music library for BA & MA students across all campuses.
Working with Industry
Working with Industry
Pitch Partners
Pitching yourself and your ideas to industry is a core competence our graduates need to possess, and we regularly bring industry friends in to listen and respond to pitches, or to partner on modules.
Recent examples include:
Twitter
Twitter is an online news and social networking provider where users post messages known as tweets. At Twitter, they believe in free expression, and that every voice has the power to impact the world. It is a forum that covers breaking news, entertainment, sports, and politics, from big events to everyday interests.
Twitter is where the world sees what's happening. Our users love seeing stories told in innovative ways. Working with ScreenSpace to enable the next generation of creative storytellers to develop their skills seemed like a perfect union. We're excited about what the future holds for students of ScreenSpace.

Dara NasrManaging Director, Twitter UK
YouTube
Created in February 2005, YouTube allows users to upload, view, rate, share, add to playlists, report, comment on videos, and subscribe to other users.
As of May 2019, there were more than 500 hours of content uploaded to YouTube each minute, and one billion hours of content being watched on YouTube every day.
Amazon Studios
An American television and film producer and distributor that is a subsidiary of Amazon. It specialises in developing television series and distributing and producing films.
BBC Storyville
Storyville is a series from BBC Four, showcasing the best in international documentaries. It is now available to stream on BBC iPlayer.
Karmarama
Now part of Accenture Interactive, Karmarama has stood out to be the UK's most progressive creative agency. They are known for combining creative excellence with technology-inspired solutions.
At Karmarama we pride ourselves on being the most progressive and forward-thinking creative business in the market. With that in mind, we are delighted to partner with the team at ScreenSpace to help deliver the most progressive and forward thinking creative production degree programme in the market. We are excited about the talent we will help to develop.

Jon WilkinsChairman, Karmarama
Recognition within Industry
We are very proud to share the following accolades from 2022:
'Outstanding Contribution to the Development of Young Talent', Odeon National Youth Film Awards – Jonny Persey, MetFilm Director
'Outstanding Contribution to the Independent Higher Education Community', Independent Higher Education Awards – David Howell, MetFilm CEO
Awards
Getting industry validation for ones work is both inspiring and helpful. Over the last few years, our student work has been judged through our Smart Screen Creative Awards, and prizes awarded to celebrate Impact, Innovation, Diversity, Entrepreneurship, Technical Excellence, and Creative Excellence – all reflecting the values of the School in connecting Education to Industry.
The Awards have been judged by well-known industry professionals including writer and director Armando Iannucci (The Thick of It, Veep, Death of Stalin); Ash Ditta (Swimming with Men, The Catherine Tate Show); Head of Development at Carnival Films, Jo Strevens; Co-Founder and Executive Creative Director of Territory Studio, David Sheldon-Hicks (Ad Astra, Blade Runner 2049, Spider-Man: Far From Home); Head of Content Solutions, EMEA, Google, Lucy Banks; and Managing Director of Content for Sky UK, Zai Bennett.
Education Partners
Education Partners
We are very proud to be connected to a range of prestigious partners and associates that deliver creative education across the world.
Our global partners inform MetFilm School's international network by providing opportunities for students to study abroad before or after they come to MetFilm School.
3iS
3iS are a leading audio-visual school in Europe with courses covering: image and sound; cinema; technical and stage management; 2D and 3D animation; video games; and multimedia graphic design.
With campuses based in Paris and Bordeaux, 3iS specialises in hands-on practical training, guided and taught by industry professionals.
Noroff School of Technology and Digital Media
With campuses across Norway, including Belgium and Oslo, Noroff has been educating and training digital forensic researchers, film photographers and producers, 3D animators, graphic designers, digital marketers, games designers, system administrators, and music producers, among others, for several decades.
Ørestad Gymnasium
Based in Copenhagen, Ørestad Gymansium is one of Denmark's leading high schools with a special profile focusing on media, communications, and culture.
They offer specialised study programmes within the natural sciences, the social sciences, and the humanities.
Toronto Film School
With a reputation as a highly practical and industry-focused provider, Toronto Film School specialises in delivering a range of programmes, including online, and across film, television, theatre, fashion, graphic design, and video games design.
University of West London
The University of West London validates our undergraduate and postgraduate courses in London, Berlin, and Leeds.
MetFilm School London students have access to the many learning and other facilities of the University of West London's Union (UWLSU) when they enrol. This includes access to the union bar, sports activities, student-run special interest societies, and a UK 'TOTUM' card for student discounts.
In 2018, MetFilm School and the University of West London partnered together to create a series of degrees providing students with practical courses focusing on production skills alongside learning experiences immersed in the film and media business. To learn more about this partnership, please visit this page.
Vancouver Film School
A prestigious organisation based in one of the busiest and most thriving film locations in the world, with alumni including Neil Blomakmp (District 9) and Kevin Smith (Clerks), and regularly lauded as one of the best film schools in the world by The Hollywood Reporter, the VFS is a leading institute delivering immersive and highly practical diploma programmes and other courses.
VFS students can undertake a diploma and be eligible to apply for one of MetFilm School's postgraduate courses.
Whistling Woods
Whistling Woods is one of India's premiere film and creative arts institutes, based in Mumbai, delivering a range of diploma and degree courses in film production, media, and communications, acting, and animation.
Whistling Woods is regularly listed as one of the best film schools in the world by The Hollywood Reporter.
York University
With over 55,000 students worldwide, and over 300,000+ alumni, York University is Canada's third largest university. With faculty across most disciplines, their school of the Arts, Media, Performance, and Design is a premiere destination for the development of creative talents across the arts.