Maja Diedenhofen (MA Directing) on EO, Conclave & Angelina Jolie
Jerzy Skolimowski's latest feature, EO, is described as a road movie – through the eyes of a donkey. Nominated for 'Best International Feature Film' at the Oscars, and named for the braying noise a donkey makes, EO 'shows us the world through the eyes of an innocent bystander', as Maja Diedenhofen describes.
An MA Directing graduate from our London campus, Maja worked on EO as First Assistant Director, joining the project after being recommended by an Executive Producer from a previous project. Since then, she has kept busy – also working as Director's and Producer's Assistant on Conclave, the upcoming film from Edward Berger (Director of All Quiet on the Western Front), as well as embarking on two personal projects.
In today's blog, we spoke with Maja about EO's wider message to the world, working with animals on set for the first time, and the various other projects she's had the chance to get involved in…
Why do you think the world through a donkey's eyes has resonated so much with audiences?
I believe the donkey represents the purity of soul, and of feelings, of sensitive people who sometimes get hurt and abused. By forcing us to watch the world through his eyes, and showing us what happens to EO as the humans in the world around him misbehave and act malevolently, we are shown something deeper about how humans are mistreating the weak – animals, children, anyone who isn't given a voice in society, and yet has so much to say.
I think many people can identify with EO, and that is probably why this film garnered such recognition.
The film has been particularly praised for its cinematography. As 1st AD, can you share any tips for managing the efficiency of the shoot, while allowing for creativity and new ideas?
Despite being such an established filmmaker, Jerzy's main approach to the film was to go back to a guerrilla style of filmmaking, of pure creativity. That's why he surrounded himself with a team of young people: he wanted to use experimentation, improvisation, and spur of the moment ideas to create a younger, more vibrant world.
This especially applied to the cinematography, but can be seen in all areas of the filmmaking process.
What was it like working with an animal cast?
I'd never worked with animals before, and it was a very interesting and rewarding experience. There were several donkeys used throughout the shoot in Poland, but only one in Italy, called Marietta.
The most interesting process was the casting of the Italian donkey – I had the privilege of discovering a world unknown to me thus far! We met an incredible animal wrangler who specialises in training horses and donkeys for films, as well as training riders as stuntmen. He was really essential in the character building for the film.
Marietta was an absolute star, and I learned that the most important aspect of working with animals is to make sure you find trained animals with excellent wranglers. He was the key person responsible for telling us what the animal could and couldn't do, and how to keep the animal at ease.
You've also just wrapped on Edward Berger's latest film, Conclave – can you share your favourite moment from the experience?
Working with Edward Berger has been an absolute pleasure, and although it was a very challenging shoot, it was also incredible rewarding. My favourite moment was definitely Ralph Fiennes' speech on the last day. He had prepared a speech in Italian, and it was a really heart-warming, special moment for the Italian crew, that he would take the care to speak to us in our language.
My job changed completely once Edward received his 14 BAFTA nominations and 9 Oscar nominations in the midst of our principal photography! I got to see how the marketing campaign for All Quiet on the Western Front played out, and collaborated closely with Netflix in the process – another highlight from the past six months of work.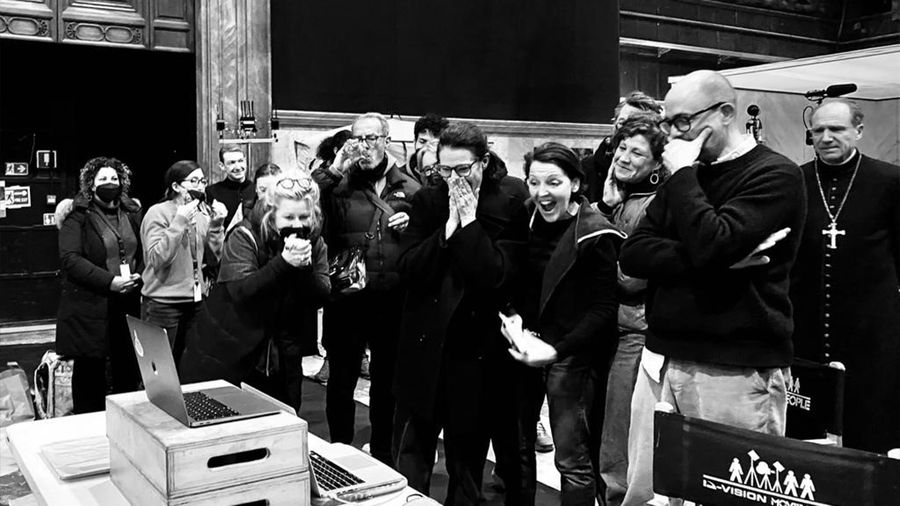 For Conclave, how did you find working as both Director's Assistant and Producer's Assistant simultaneously?
I really enjoyed it, as it meant I got to see the creative as well as the logistical aspects of the film. I was working for Edward, as well as for the UK Producer Alice Dawson and US Producer Mike Jackman (from FilmNation).
It was definitely challenging, but I learned so much, and it definitely gave me a wide-ranging overview of the film we were making!
Having studied MA Directing, are there any key lessons from your degree that you've found yourself returning to in your career?
I think what I found the most useful from the degree is the focus on employability skills. Our tutors always wanted to make sure we were not only prepared to produce and pitch our own material, but also ready to enter the world of work with practical skills.
The modules on directing actors, as well as screenwriting, were my favourites from the course – those were where we really had the freedom to express ourselves creatively.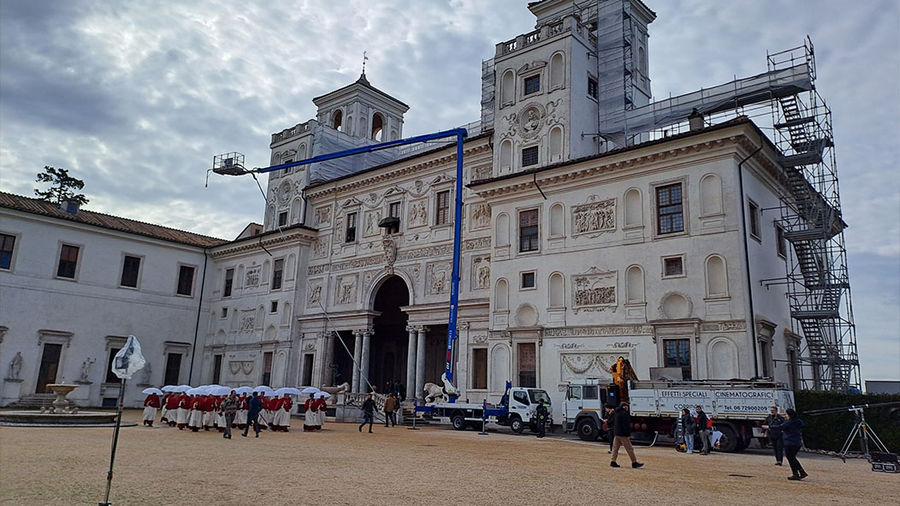 Finally, it's been an exciting few years for you – what will you be working on next?
It's definitely been an exciting few years, a highlight of which was working as Director's Assistant for Angelina Jolie's latest film Without Blood (currently in Post-Production).
Working with and getting to know such incredibly talented established filmmakers has been a blessing, and a great motivation to keep working on my own personal projects – of which I currently have two: a musical coming-of-age story set between Rome and New York, and a historical fiction epic set between London and West Africa. It's my dream to get one of these projects made in the coming years!
---