Film Markets: The who, what, and how with MetFilm's Zak Brilliant
Earlier this year, MetFilm School Berlin hosted a Masterclass with Zak Brilliant, Head of MetFilm Distribution and MetFilm Sales, while he was in town for Berlinale. Hosted by Kordula Hildebrandt (from Hildebrandt Film), the pair discussed their experiences of the film market, as well as festival strategies for first-time filmmakers, and what they look in a debut project.
With submissions for London Film Festival and the London Short Film Festival currently open (amongst many, many others), this recap contains plenty of helpful advice for MA Film & Television Production or MA Producing students, as well as for aspiring filmmakers who want to know more about the world of film acquisition and sales.
What is a film market?
'It's strange,' Zak began, 'people don't necessarily equate the movie industry with a trading market, but that is certainly the heart of at least the independent film business'.
A perfect example of this was the very market Zak was in town to attend – the European Film Market, otherwise known as EFM, which happens alongside Berlinale each year. While the buzz and glamour happens on the red carpet, buyers from all around the globe gather behind-the-scenes, looking for new films to add to their slates.
As with any traditional market, a film market has buyers and sellers:
Buyers: acquisition or distribution executives, they are looking for new films to release and/or distribute.
Sellers: sales agents or producers, they are looking to sell their film or project.
The seller is the person deciding whether to make, for example, a worldwide deal with Netflix, or to split their distribution from territory to territory with more traditional studios.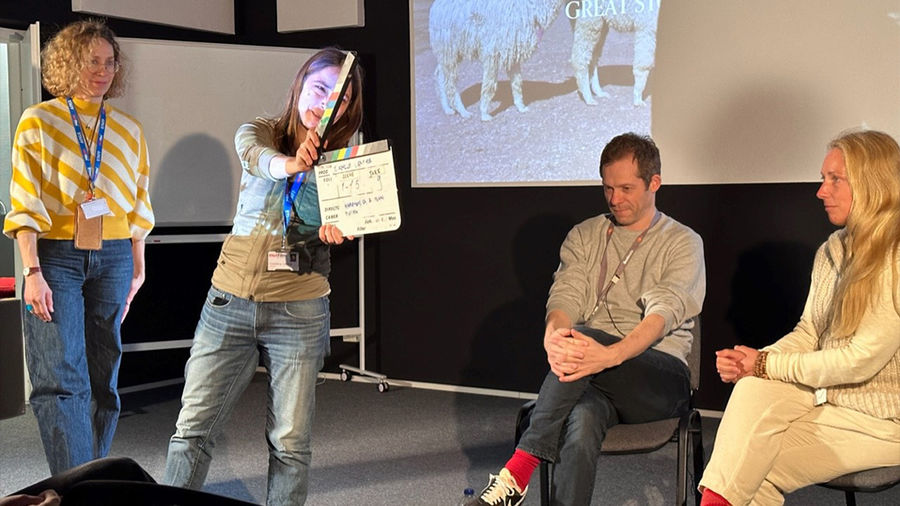 In Berlin, the EFM takes place around the Berlin Film Festival's base at Potsdamer Platz, and Zak explained that where you find a sales agent tells you something about the budget of their film.
While the main exhibition hall at the Martin-Gropius-Bau might be full of potential gems, agents representing larger films might instead take a room at the Marriott Offices – and for those dealing with £40-50 million projects, a buyer will probably be invited to meet them at the Ritz Carlton Hotel.
Festival play and high-profile responses
For first-time filmmakers, it can be daunting to think about getting into the film market – how do you capture people's attention? How can you make your debut stand out from the crowd?
'You've probably already heard this, but it's a truism', Zak began, 'when it comes to smaller films, you want to see either A-list festival play, or high-profile positive reviews.'
If it's a debut, and it doesn't have either of these things, it's hard for a distributor to give it attention. It makes us sound terrible, but in a world where there's just so many films, you've got to put up a threshold somewhere.

Zak BrilliantHead of MetFilm Distribution & MetFilm Sales
Before you work on a debut, a short film can be a good way to start building your reputation in the industry, with short film festivals – or strands within larger programmes, offering a chance for both festival play and high-profile reviews. For this, Zak shared some strategic advice for generating as much buzz as possible in the festival circuit:
Hand-pick your festivals: While you don't lose anything by applying, submission fees can add up. If you've got a sci-fi horror, why not aim for genre festivals, where you're most likely to find a receptive audience to your project. Don't spend £50+ on a festival that's unlikely to accept you.
Be super organised: Create a spreadsheet with all the admission deadlines, dates, fees… track everything. It can be incredibly easy to lose track after only a handful of submissions.
Skirt the fees: If you can find the direct contact details for a festival programmer, try sending them a 

succinct

email explaining that you can't afford the submission fee, with a one-minute teaser of your film. 'Most people are decent', Zak explained, 'they're not going to penalise you because you can't afford the fee'.
Attending your first film market
After talking about the basic workings of a film market, and how you might begin to build your profile for your project, Zak and Kordula shared their advice for first-time sellers and/or buyers.
How do you know who to talk to?
Zak Brilliant: A good way to start is by thinking about your comparables. Find a film from the last few years that you think is similar to what you've got – and then work out who distributed it, who the sales agent was, and so on. That way, you'll start to get a sense of who you should perhaps be approaching with your project.
What should I bring with me?
Kordula Hildebrandt: I see more and more people that bring a business card with a QR code directing you to their website or press kit. That way, you can give potential buyers everything they need, from the synopsis, to character descriptions, to your contact details – never forget the contact details!
Zak Brilliant: Your materials are key, so make them as slick and uncluttered as possible. When you send someone a screening link, the first thing they'll do is check the runtime, and if it's too long, they won't watch. It's the same for a slide deck – don't give them 30 slides of information to sift through!
What else should I do while I'm there?
Most festivals and markets run industry talks, panels, and networking events throughout their duration – these are a great tool, and also a space to find like-minded people and aspiring filmmakers you might end up working with. At the 2023 EFM, for example, their Industry Programme included sessions on audience building, adapting to the market, and the power of universal storytelling.
---